4channels Wireless Truck Camera Systems with DVR and 9inch monitor
Product description
:
Product Details
Wireless Backup Camera for RV 1080P Wireless 4 Front/left/right/ RearView Cameras with 7 Inch DVR Monitor System for RVs,Trailers Support Add on Second Wireless Licence Plate Camera/Trailer Camera
why use novel wireless camera system for your vehicles?
1, 2.4GHz digital wireless technology and actual valid distance up to 100 feet (30 meter)
it can cover almost all heavy duty / 75 feet /53 feet 18 wheels trucks and all kinds of
caravan motorhome RVs
2, No complicated installment and labor cost!( the expense is even up USD500+)
3, this device is with video recording DVR function, max 128GB
4, this device is with perfect touch screen 7inch HD vehicle monitor
5, you can equip more extra cameras up to 4 (optional)
6. You can move it from one vehicle to another vehicle easily if request
7. Protect yourself from fraudulent claims
8. Submit keying original video evidence to Police and court if incident happen to reduce loss
9inch quad 4 channels Vehicle monitor with DVR
goobuy offers the perfect WIRELESS 2-4 camera system for truckers and especially small to large trucking fleets of all kinds! This 2-4 cam Wireless 2nd Gen system starts with 2 960P HD from 2 viewpoints. Plus, this system allows you to add a 3rd or 4th 960P HD Wireless Weatherproof Camera if you want to record a a 3rd or 4th Viewpoint, now or in the future.
What separates this system from other vehicles cams and systems is this system offers up to 4 wireless cameras with 200 + feet of wireless range. This will make adding 2-4 cameras to your vehicle/truck/trailer as easy as possible and will give you endless locations and places you can install these wireless cams.
Also, this system offers a 9" LCD that will allow the driver to see 1, 2, or 4 viewpoints as they are driving, which will allow the driver to use the camera system as a blind spot awareness system. This should help the driver avoid accidents when changing lanes, backing into tight spaces and more.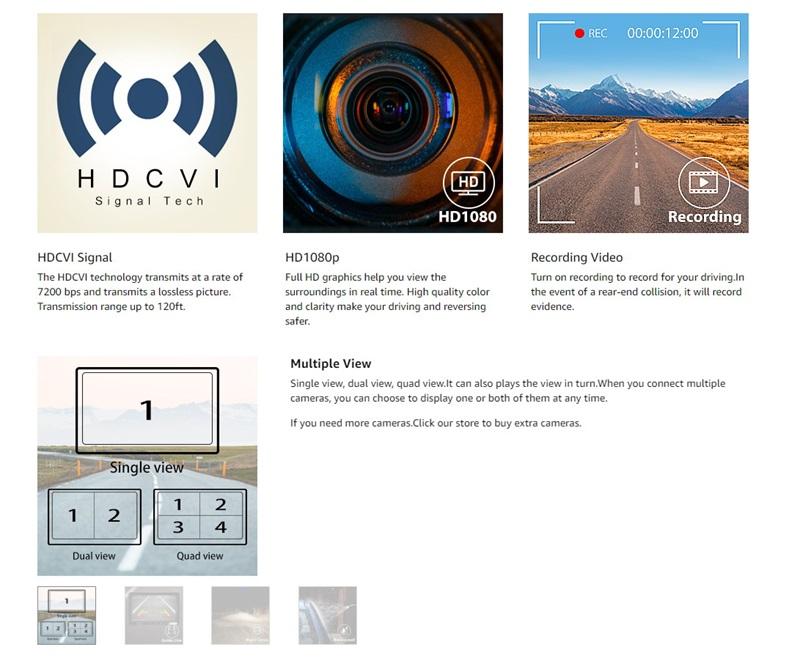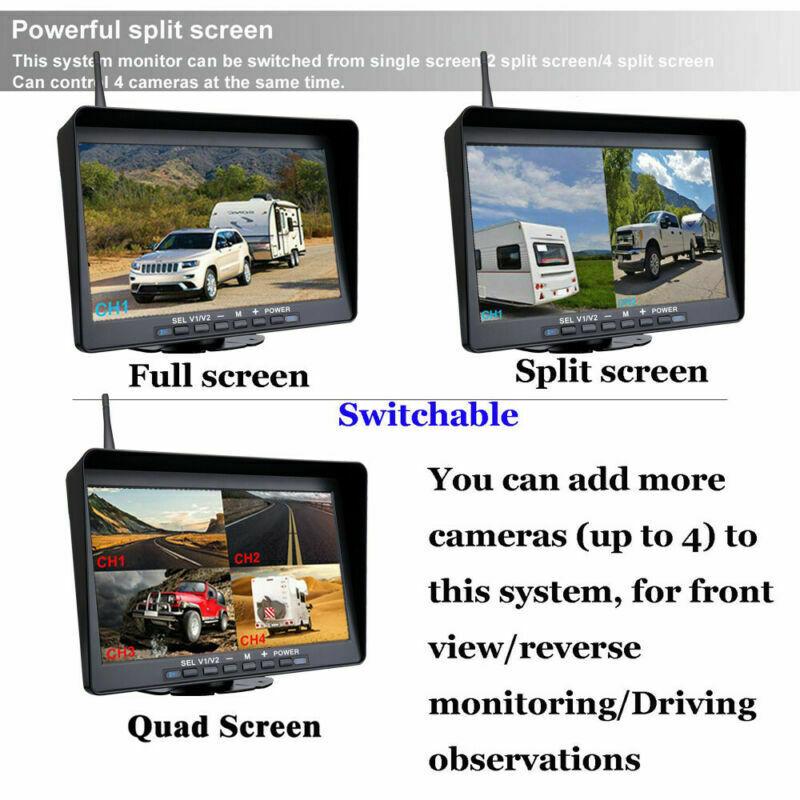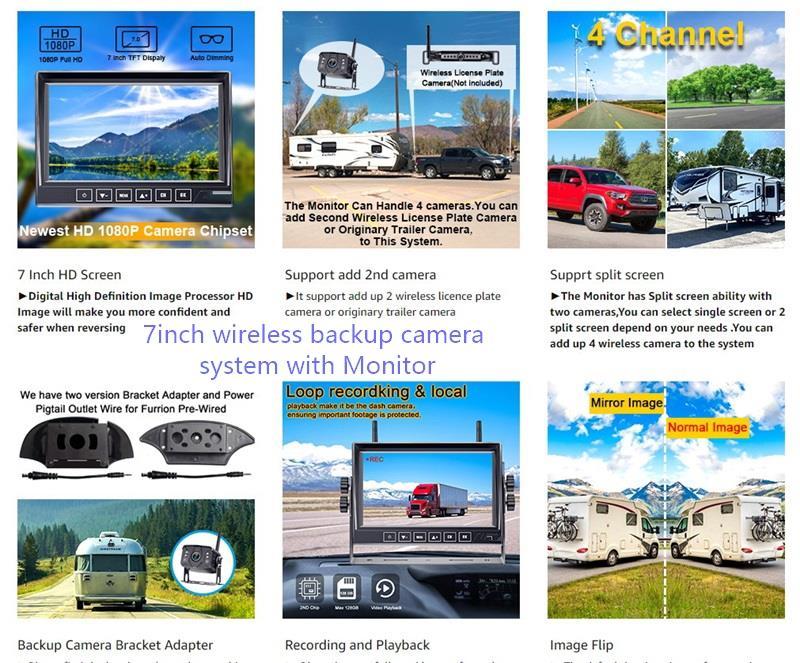 Wireless Backup Camera for RV 720P/1080P 4Wireless Rear View Cameras HighWay Observation System 7 Inch DVR Monitor Touch Key for RVs,Trailers,5th Wheels with Adapter for Furrion Pre-Wired RVs
Product Feature
(1)Newly Upgraded Dual-antenna Wireless Backup Camera:With unique dedicated digital signal antenna design and the latest 2021 digital signal chip, the rear view camera can send 1080P videos to the display via the stronger signal. The signal can reach 360ft in open area and working on vehicle range under 220ft. Dual-antenna RV backup camera is better than other single-antenna vehicle backup cameras in stability, signal transmission distance, durability and power
(2)The wireless working range up to 220 feet without interference. It can be recorded and has a recording function. You can wire the system for Reversing/Rear view or full time constantly view, suitable for RV, 5th Wheel, Truck, Trailers, Campers, Bus and different type of vehicles.
(3)We provide the mount for install the RV camera on side. HD 1080P Wireless Camera with IP69 waterproof with 150° wide viewing angle with 18 infrared lights.
(4)Very easy to install .You can fix the monitor on dash, hang on anywhere you want (base can be disassembled),and mount it on the windshield.
Product Specification:
1,Premium Digital WIRELESS 4 Camera DVR System for Truck Drivers & Fleets management
2,Record 4 Viewpoints with Wireless Cameras with 100 feet + actual valid working wireless range
3,IP68 Cameras are 720P High Resolution, Heavy Duty, Commercial Grade with excellent night vision recording
4,All Videos are with time and date stamped to prove what happened and will give date/time details
5,Loop recording, which means DVR will delete old video with new video, once SD Card is full. Can use up to 128GB SD Card
6,Wireless 7-inch Digital LCD with Quad View Capable HD Screen (1-4 Viewpoints at once)
7,Reduce unexpected Accidents with Blind Spot Monitoring
8,2.4GHz DIGITAL Wireless Back-Up Camera System, 0% Interference, 0% static, with 100% crystal clear picture
9,Quad view monitor allows single, or multiple views (split display).
10,Max 128GB SD card slot allows video to continuously loop record.
11,DIGITAL Wireless Back-Up Camera System, no need for complex wire connections for an easy install.
12,Built with high-powered IR LED night vision bulbs for the best night viewing. Cameras can also be ordered WITHOUT IR LIGHTS at checkout. No Price difference.
13,Mirror image button feature directly on the monitor
14,Automatic video setting for bright and dark environments
15,7-inch Color LCD HD Monitor with built-in receiver, can turn off LCD during driving
16,Waterproof, heavy-duty IR camera provides flexible mount, options. you can choose our different design vehicle cameras, No Price difference.
17,For use with 12V-36V DC electrical power systems
18,Easy do-it-yourself DIY installation with the elimination of wires from camera to monitor
19,Box complete with everything you need to install,Easy to read English installation manual
20,1 Year Warranty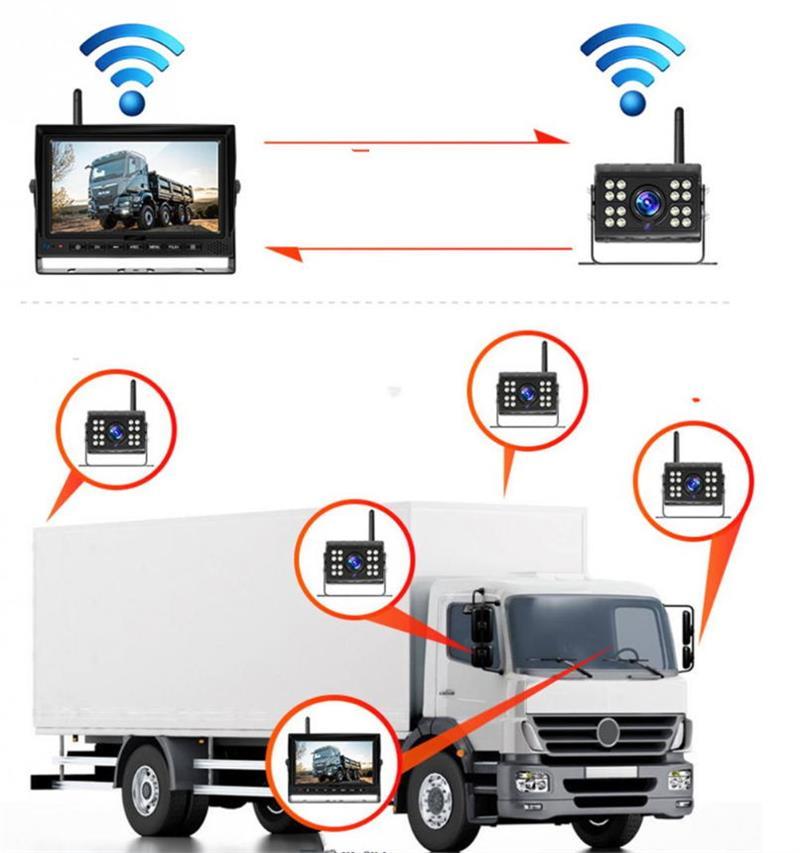 Product Application
(1)Multi-camera wireless dash camera system can works on all types of commercial vehicles:
Semi trucks, Cargo vans, Box trucks, Service Vehicles, Tow trucks, Flatbed trucks
Tow trucks, Multi-stop trucks, Heavy-duty trucks, Cement mixers,Dump trucks
Garbage trucks, Firetrucks, Recreational vehicles (RVs), Snowplows, Semi-trailer trucks
(2) 4 camera truck camera system for Canada market
Ford F-Series trucks, Dodge Ram trucks, GMC Sierra trucks
Chevrolet Silverado trucks, Toyota Tacoma trucks, Toyota Tundra trucks
Chevrolet Colorado trucks, GMC Canyon trucks, Nissan Titan trucks, Nissan Frontier trucks
(3) Digital wireless 4 camera system work for ford truck f series, mustang truck, ford lightning 2022, 2021 ford f150 f250 f350,f450, 2020 ford ranger, ford f100, ford pickup, F650,F750 ford maverick truck, ford shelby truck, 2022 ford maverick pickup truck