2CH Wireless Dash Camera For Commercial vehicles
Product description
:
Front and rear wireless truck camera system with DVR
Product Details
Front and Rear/backup wireless truck camera systems with DVR for all commercial vehicles and fleet management
7inch wireless digital Monitor With Built-In DVR recorder Allows for Ongoing Truck Surveillance
The 7" Wireless Monitor for Vehicles with Built-In DVR is a super-sharp digital display that can present information in quad screen view. The screen resolution is a sharp 800x480. The monitor also comes with a built-in DVR, giving you the ability to monitor and record what your cameras pick up. A wireless distance of up to 70 feet allows drivers to monitor every angle of their rig. The on-board SD card slot allows users to add up to 128GB of memory card storage.
The kit includes one weatherproof, mountable camera that features a 130° viewing angle, glare reduction, and night vision up to 50 feet in complete darkness
Systems may include multiple cameras (optional) that may face the driver to deter distracted driving as well as side and rear cameras to assist with parking.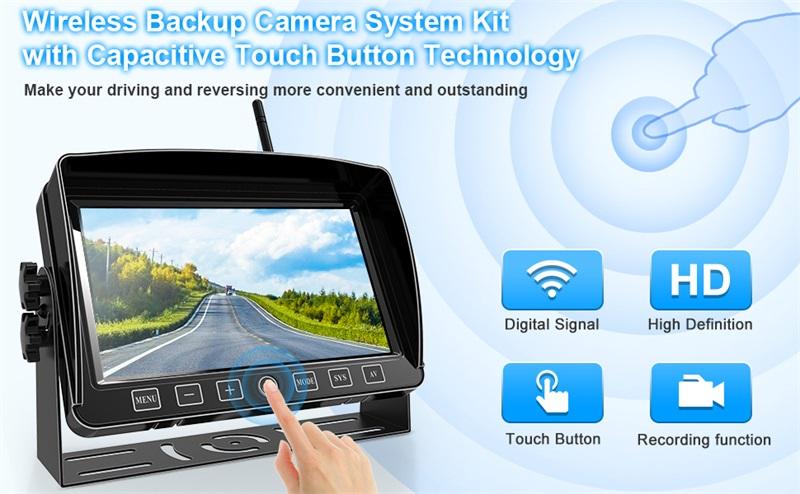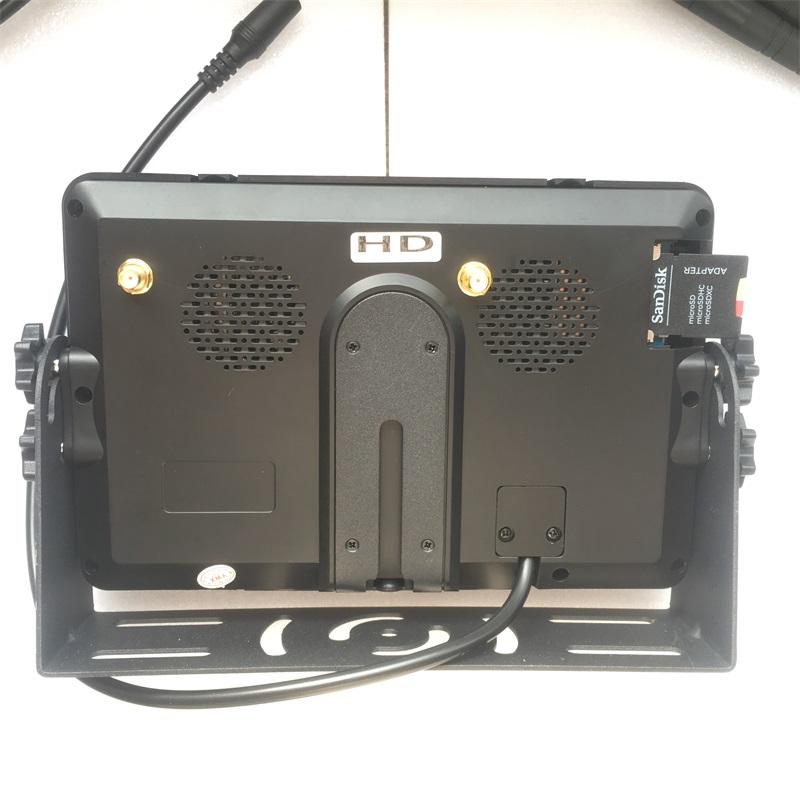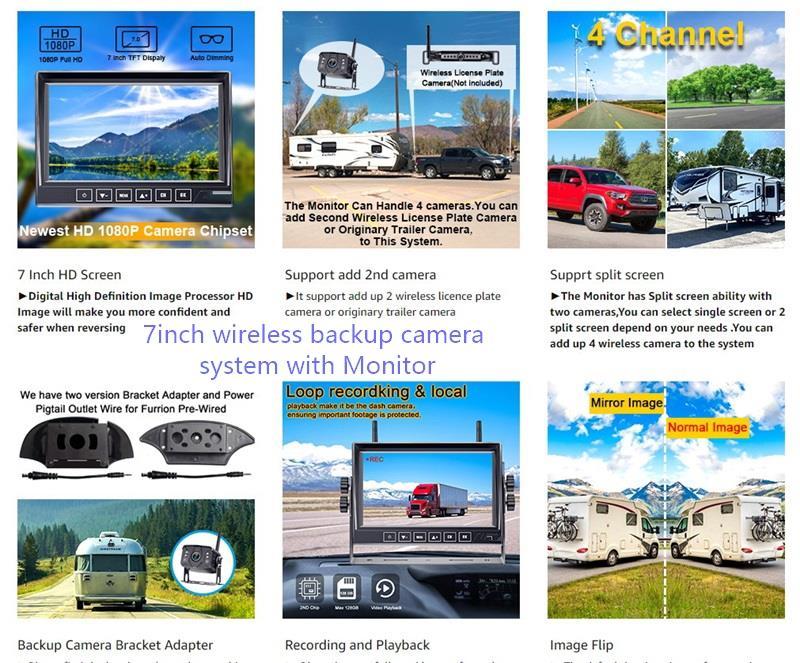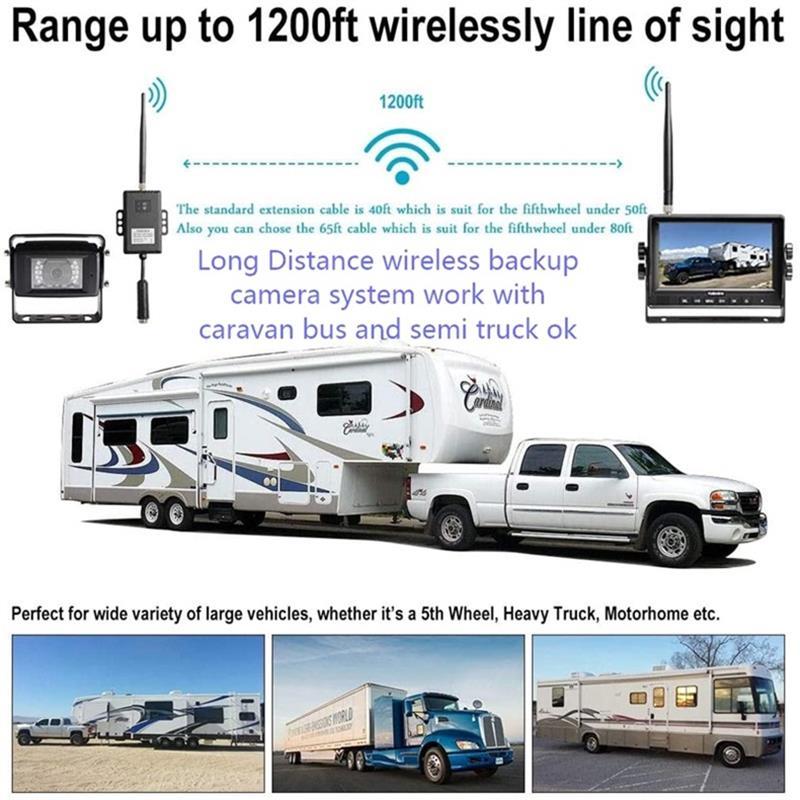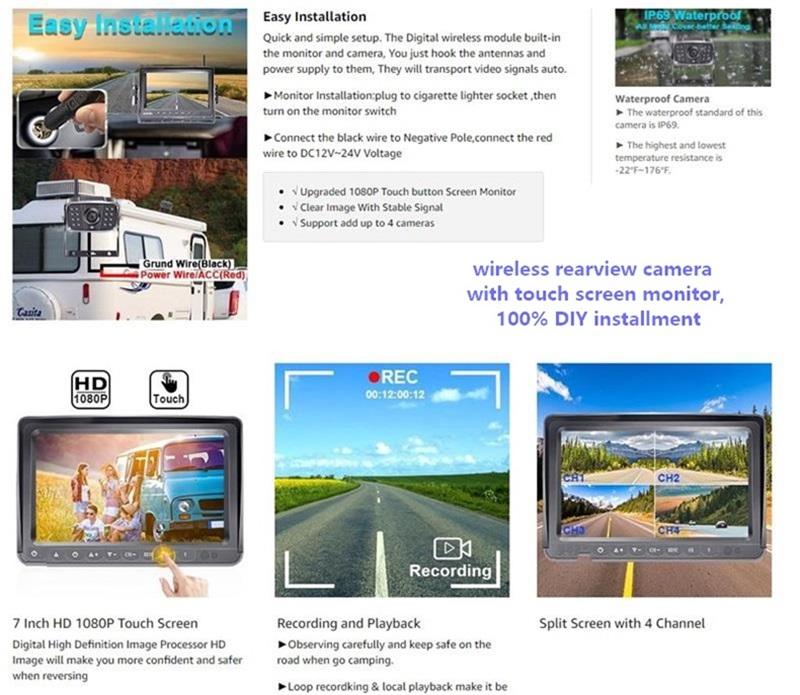 Product feature:
720P/1080P Digital Wireless Backup Camera with 7 Inch DVR Monitor 2021 Newest Version High-Speed Rear View Observation System Stable Signals for Semi truck, Commercial trucks, RVs,Trucks,Trailers,5th Wheels IR Night Vision
1, Protect yourself from fraudulent claims during driving
2, include 2 heavy duty good night vision wireless cams
3, 720P wireless cameras are IP68 with 4 IR lights
4, Actual wireless working valid range is up to 100 feet (30 meter)
5, 7 inch LCD with built-in DVR, can use max up to 128GB SD card
6, Quad Screen LCD, can view front and rear Cameras
Product specification
(1)Unique digital signal dedicated antenna design:
Our antenna is designed only for the transmission of digital signals, which is more than 50% stronger than ordinary dual-antenna signals and is more durable. The digital signal can reach 800ft in open area and 200ft in vehicles.For this backup camera,we can provide the bracket adapter and pigtail wire plug compatible Furrion pre-wired bracket and power outlet (optional extra purchase) .
(2) 2 Video Inputs & Single or Split Screen
This vehicle backup cameras,two wireless video channels monitoring two cameras. For the extra camera,there have 2 options(truck camera or rv camera),just depend on your need. The truck backup camera is IP69 waterproof,can withstand extreme temperatures from -22℉~176℉. No more lens water or fog problems.
(3) 7 INCH touch screen Monitor with video Recording Function
The truck security camera products with large 7-inch monitor and fully functioning video recording, either as a continuous loop (default setting) or manual option. We provide the 128GB SD card if you need.
(4) Upgraded Wireless Backup Camera with 170°Wide View Angle
1080P HD wireless backup camera with the wide lens can provide a 170-degrees wide vision and reduce blind area for you. Make your driving safer and easier.
goobuy offers the perfect WIRELESS 1-2-4 camera system for truckers and especially small to large semi trucking fleets of all kinds! This 1-2-4 cam Wireless newest system starts with 2 720P HD from 2 viewpoints. in addition, this system allows you to add a 3rd or 4th 720P HD Wireless Weatherproof Camera if you want to record a a 3rd or 4th Viewpoint, now or in the future.
What separates this system from other dash cams and systems is this system offers up to 4 wireless cameras with 200 + feet of wireless range. This will make adding 2-4 cameras to your vehicle/truck/trailer as easy as possible and will give you endless locations and places you can install these wireless cams.
Package included:
1 x 7 inch LCD touch screen Monitor
1 x Remote control
2 x Video & power cable
1 x Semi truck forward-facing Camera
1 x truck Rear View Camera
2 x Power cable
2 x wireless signal receiver
2 x wireless signal transmitter
Product Application:
(1)This 7inch wireless camera system can work and apply for all commercial trucks include semi truck, Tanker truck,Transport Logistics vehicles, Trailer, VAN,Articulated dump truck,Rigid truck, Truck-trailer combination, Longer Heavier Vehicles, Bulk truck, Container- / hooklift truck,Tipper truck,
(2)Wireless Dash camera with backup camera can be used in all transportation industry, money transport vehicle industry, security industry, police and fire protection system of government units, rental car industry, express delivery industry, tow crane industry, engineering vehicle, and other enterprises with fleets.
(3)It is also widely used in public transportation, passenger transportation, school buses, logistics vehicles, hazardous chemicals vehicles, mechanical engineering vehicles, rentals, law enforcement patrols, trains, ships and other industries.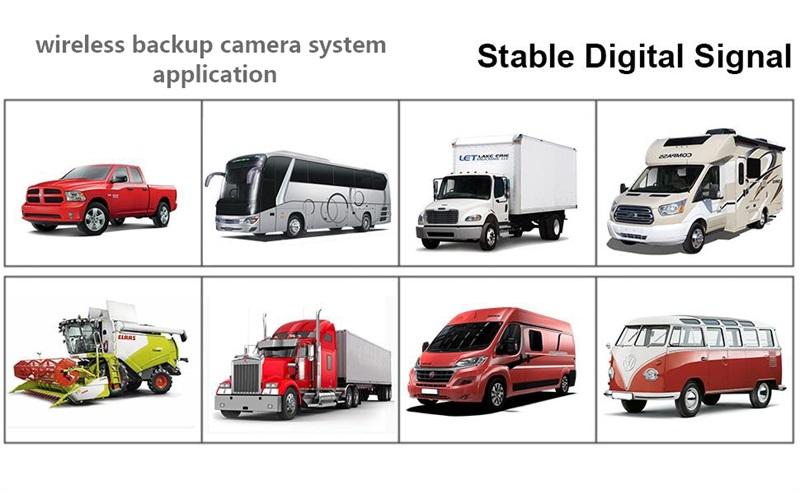 Feedback and comments from our ordering customers ago