Details
Factory Customize 1080P ADAS Front Camera For Car and all Commercial Vehicles
Advanced Driver Assistance Systems (ADAS)
The introduction of Adas Camera
Advanced driver-assistance systems (ADAS) are electronic systems that assist drivers in driving and parking functions. Through a safe human-machine interface, ADAS increase car and road safety. ADAS systems use automated technology, such as sensors and cameras, to detect nearby obstacles or driver errors, and respond accordingly.
Product Features of Aftermarket Adas Camera
1, Using 2 megapxiels Progressive Scan Cmos, professional low-light photosensitive chip
2, Support AHD Coaxial HD Output, effective Pixels 1920*1080P
3, The lowest illumination is 0.01lux, star level night vision HD effect
4, Support Digital Wide Dynamic, CDS external control, OSD Menu Control
5, Support 2D-DNR, 3D-DNR noise reduction, adaptive digital noise reduction
6, Support DC5024V wide voltage, -40degree to + 80 degree working temperature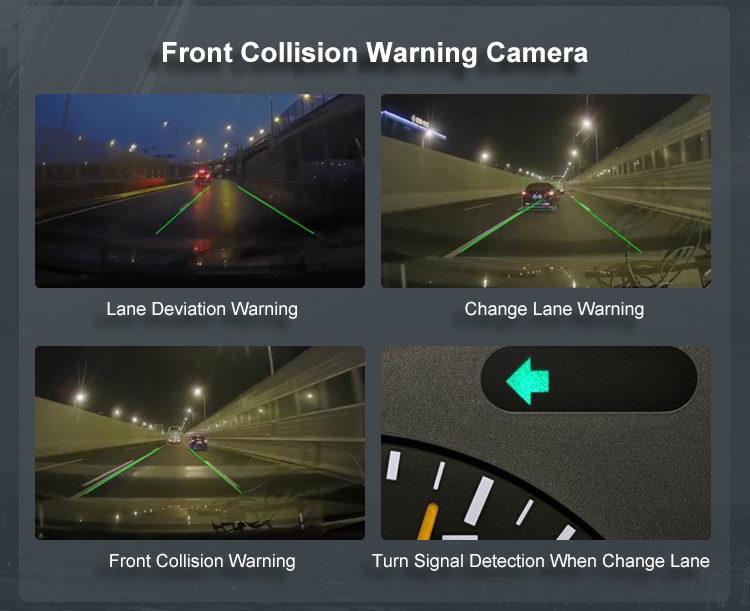 Adas Camera Specifications
| | |
| --- | --- |
| Product Name | 2MP ADAS Camera |
| Adas | The camera have built-in algorithm/ program of Adas |
| Cmos sensor: | GC2053 |
| Video type: | PAL |
| Effective pixl: | PAL:1920(H)*1080(V) |
| Minimum illumination: | 0.01LUX/F1.2 |
| Video resolution: | AHD:2MP, 1080P |
| Synchronization system: | Internal synchronization |
| scanning frequency: | PAL:50Hz / NTSC:60Hz |
| Gamma: | 0.45 |
| Video output: | 1.0V Factory default AHD, can adjustTVI/CVI/CVBS |
| Audio output: | Support audio |
| Gamma coefficient: | 0.45 |
| AGC: | Auto |
| S/N Ratio: | More than 46dB |
| White Balance: | Auto |
| Electronic shutter: | 1/50-1/120000(second) / 1/60-1/120000(second) |
| BLC: | Auto |
| Currency: | 50mA±10% |
| Voltage: | DC 5-16V |
| Work temp: | -20°C~60°C , RH90% MAX |
| Storage temp: | -20°C~70°C,RH90% MAX |
| Opition Lens: | 1.78mm F =1.4 |
| HFOV of lens: | 90° |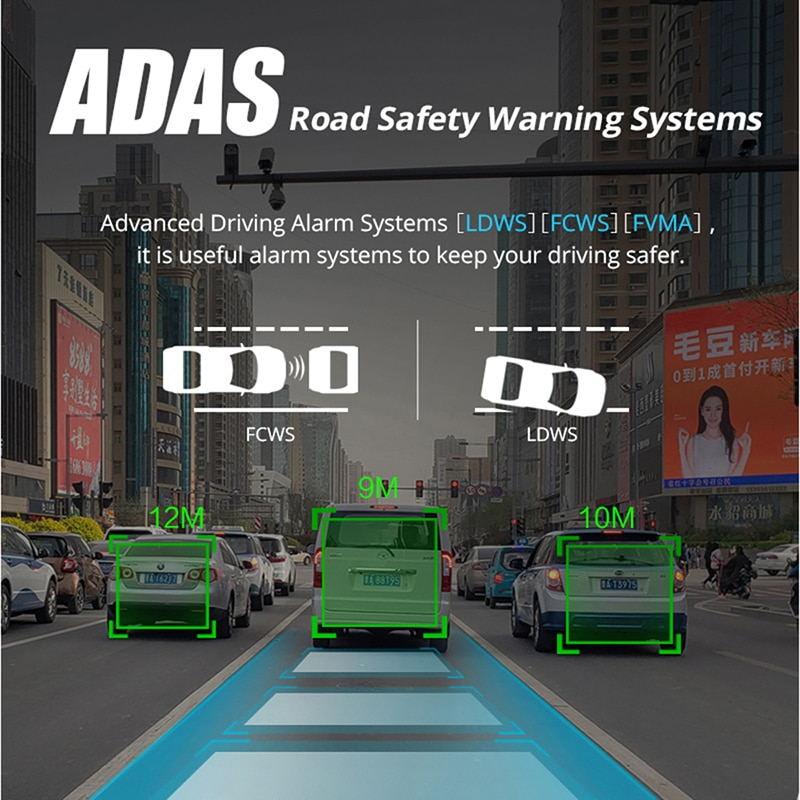 Our company Novel Manufacture Limited Can produce different kinds of aftermarket Adas Camera or custom-made special function or revise or adjust or add customized functions in current Adas Front Camera for customer.
Product Application:
Adas Camera can work For Car, SUV, School Bus, Coach, Semi trucks, Commercial Truck,Tanker truck,Transport Logistics vehicles, Trailer, VAN,Articulated dump truck, Rigid truck, Truck-trailer combination, Longer Heavier Vehicles, Bulk truck, Container- / hooklift truck,Tipper truck, trailers and towed machines, Tipper, Skip Lorry, Sweeper, Hooklift, Quarry Dumper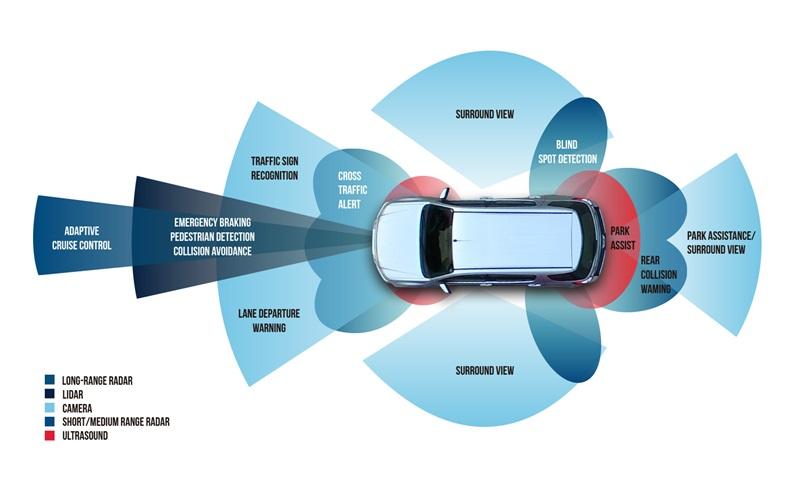 FAQ
1. What is ADAS Camera Function?
Lane Departure Warning System (LDWS)
Drowsy or distracted driving greatly increases the chance of an accident on the road.
The LDWS will alert the driver with English voice when the vehicle goes off lane in a speed over 50 km/h.
Forward Collision Warning System (FCWS)
Accidents can be avoided by maintaining a safe following distance.
Road Safety Warning System in the calculates the real-time distance between your vehicle and the vehicle in front of you, while driving above 30 km/h in expressways or under 30 km/h in a busy city,
and issues a 3-level early warning with English voice to the driver depending on the danger of collision.
2, What ADAS System Camera can do during driving?
1. Lane deviation warning when lane deviation occurs without turning on the turn signal
2. Calculate the collision time based on real-time speed, trigger an alarm when the vehicle ahead is too close
3. Estimated bumper collision warning, when driving at low speed, calculate collision time based on real-time speed, trigger an alarm when the vehicle in front is too close
4. Identify pedestrians within 40 meters, calculate the collision time based on real-time speed, trigger an alarm when the pedestrian is too close to the front of the lane
3. ADAS Cameras: How They Work
Cameras are positioned outside the vehicle on the front, back and sides to capture images of the road, street signs, pedestrians, vehicles, and other obstacles. Images captured by the cameras are analyzed by supporting software and the information then triggers a response to improve safety.
4. ADAS Advance Driving Assistance System
Minimizes the risk of suffering a road accident or colliding with other vehicles.
1:Lane Departure Warning(LDW): ADAS intelligent sensing will keep monitoring the current lane position of the vehicle in real time. If generating lane change, cross lane,and the turn signal is not activated in the process of driving,the system will trigger the lane departure alarm and voice warning.
2:Headway Monitoring Warning(HMW): Based on the configured speed (30KM/H),if the vehicle is ≤ safe distance from the vehicle in front,the system will trigger first level collision alarm and there will be voice warning.
3:Forward Collision Warning(FCW): Based on the configured speed (50KM/H),if the vehicle is ≤ safe distance from the vehicle in front,the system will trigger the secondary collision alarm and there will be voice warning
4:Pedestrian Collision Avoidance Warning(PCW):Pedestrian Collision Avoidance Warning, camera will scan and analyze the pedestrian,if the TTC(Time To Collision) is less than 2.7 seconds the PCW will be trigger and there will be voice alarm.
Tags
Adas Camera
Adas Camera Car
Adas Camera Specifications
Aftermarket Adas Camera
Adas Front Camera
Adas Camera Manufacturers